As I mentioned, this version is super thick! It has a similar consistency to Greek yogurt. You can make it however thick or thin you wish just by adjusting the liquid amount. I find 1/2 cup of coconut water and 2 cups of coconut meat = a lovely thick yogurt…no straining required. Likewise, you can make it as sweet or tart as you want by adjusting the sweetener. I don't like super sweet yogurt so I only add a tablespoon of sweetener into the blender. If I don't want the yogurt to change colour, I use cane sugar (such as in these photos), but I also like to use maple syrup or raw coconut nectar too (which will dim the bright white yogurt a bit). You can also get creative and try making different flavours by adding fruit, chia jam, etc. I think I might try a coconut-mango-lime version next!
Here is my batch of strawberry-raspberry-vanilla chia seed jam below. As a general rule of thumb for making chia seed jam, I use about 300-450 grams of fruit, 3 tablespoons of pure maple syrup (adjust depending on tartness of fruit), 2 tablespoons of chia seeds, and a pinch of pink salt. You can flavour it with vanilla, lemon, orange, etc. For how to make it, see this post.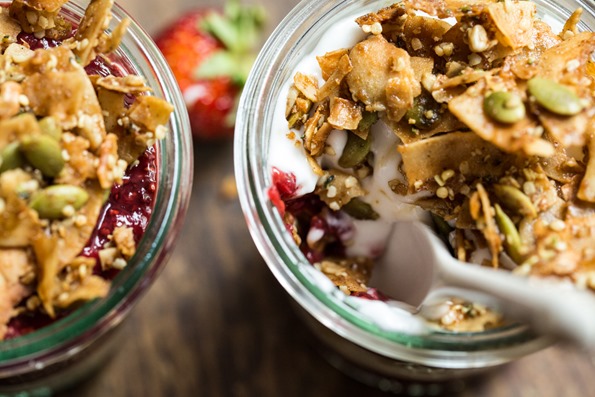 If you try this recipe, please leave a comment and let us know if you enjoyed it!