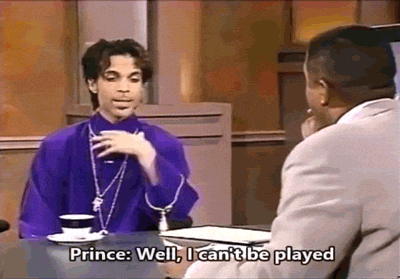 It was on a Thursday morning April 21st, I learned that a man I really thought was immortal left the world in his physical form. At age 57 Prince Roger Nelson passed away, and like many people my heart was broken, there's so many memories, connected to him and his music. There's many speculations surrounding his death, conspiracies theories have been popping up also, which I just don't care to listen to. Lets do more with celebrating all he gave us, unselfishly.
I didn't learn until later in life he had a great sense of humor. Prince using Dave Chapelle impersonating him as an album cover for a single, was everything! Prince was honest, sometimes too honest, but it's what we all loved about him. He also everything he was thinking with simple face expressions. The many times my friends or I have text or tweeted of with a Prince gif or meme to eloquently express our thoughts have been endless.
Here are all the Prince gifs you will need to get through life
When you're over the conversation but still want to end it with grace
When your friend tells you she's dating that horrible ex again
When that guy on tinder tells you he likes dating women that understand a man's role in a relationship
When you and your crush meet eyes When you decide it's time to ask for that raise at work
When you realize your date is dumb but you'll still have sex with them When you're clearly cooler than your home girl,
These are our go to Prince gifs when words just won't suffice. What are favorite Prince gifs, let us know in the comment section below!
Queen is a 30 something from the Bronx, NY. She created Ms. Vixen to spread her thou
ghts on feminism, Black pride, it's the first stop on her quest to be a media mogul.