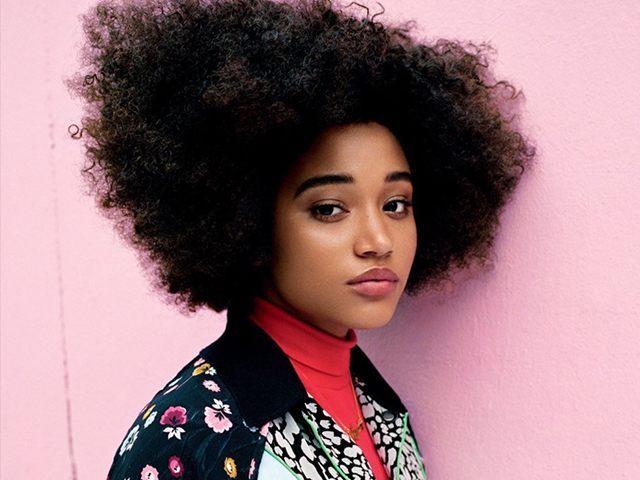 With a name that means "power" in Zulu,
Amandla Stenberg has become a voice
of
an entire generation
and manages to speak for those who can't speak for themselves.
Stenberg started out doing photo shoots for Disney when she was four and played Rue in the first installment of the
Hunger Games
franchise. But most importantly, she is a powerful role model and does not shy away from topics such as feminism, her sexuality and even black culture.
Last year, she made headlines for her school project turned viral video of
"Don't Cash Crop my Cornrows
," which called out the mass appropriation of black culture in the media. She's also called out celebrities such as Taylor Swift and Katy Perry for using cultural appropriation in their music videos while also addressing Kylie Jenner about the problem with wearing cornrows.
From being signed to a modeling agency, attending fashion shows and premieres, Stenberg's presence also graced the cover of Teen Vogue; in which Solange interviewed her.
There are probably many reasons to love Amandla Stenberg that also include her natural hair and style. "I know when I used to chemically straighten mine, I did it because I wasn't comfortable with my natural hair. I thought it was too kinky. So for me, personally, when I started wearing it natural, it felt like I was blossoming because I was letting go of all the dead hair and all the parts of me that had rejected my natural state. But, you know, it's not like that for all black girls. Some have their hai
r straight because that's just
how they like it, and it doesn't mean they accept themselves any less
," she said in her Teen Vogue interview with Solange.
With many great fashion bloggers, stylists, designers and game changers, possessing great style is important—especially in the industry Stenberg is in. Though she often turns to Instagram for inspiration, Stenberg's style is creative, bold and constantly changing. Stenberg chooses pieces that are not only current or on trend but
also a
typical, for example, the
Moschino suit she wore at this year's
Black Girls Rock!
The burnt orange suit
that
buttoned up in
to the menswear-inspired double-
breasted blazer, Stenberg
also paired her outfit with a flame-yellow collared shirt and layered tie underneath. She could have easily worn any other shoe but she perfectly contrasted the tailored look with black lace-up combat boots. Another thing that makes Amandla Stenberg's style so incredible is the fact that it is simplified, sometimes relaxed but still leaves people wondering and wanting more.
Amandla Stenberg's voice and ability to impact change is remarkable. Her style represent
s
someone that is equally as bold, fresh and ready for whatever comes her way!
*all photos courtesy of Teen Vouge and Tumblr
By: Ajea Nicole
Ajea Nicole is a 20 something from Boston, MA who craves anything style related. Though her love of style originated from scouring her mom's closet, she often gleans style inspiration from Solange and June Ambrose. When she is not catching up on Project Runway, she can be found working out at the gym, reading a good book or
somewhere in a sushi restaurant
.
Connect with her!
Twitter:
@ajeanicole
Instagram:
@ajeanicole